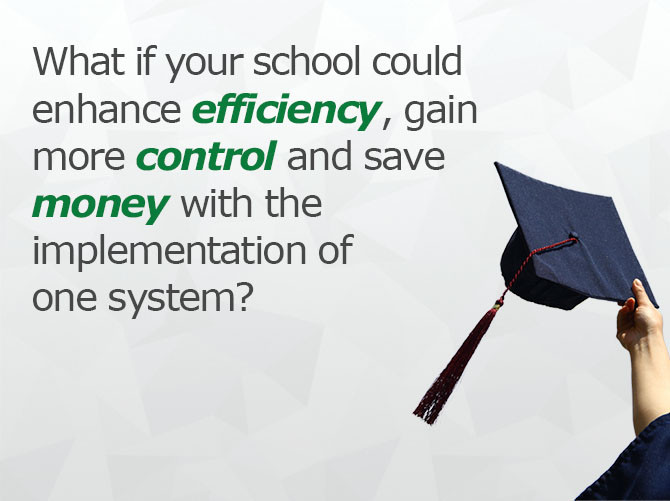 Educational institutions maintain numerous records systems and need affordable Paperless Solutions that increases accessibility while protecting student information. Schools and universities use Digitech Systems' technology to reduce document management costs, improve information accessibility and secure student records.
Enhance Efficiency, Gain Control and Save Money with Paperless solutions!
In the U.S., schools and universities have a volume of information they must maintain and protect, which can be overwhelming, time consuming and costly. What if your school could enhance efficiency, gain more control and save money with the implementation of one system? With Paperless Solutions schools and universities are able to condense records into a simple, searchable source of information. With Paperless Solutions! your school will be able to:
Improve efficiency by managing information electronically.
Control security and protect student privacy.
Save money by reducing document management costs.
Improve Your Efficiency with Electronic Records
Managing and retrieving paper documents across multiple departments and locations can be difficult and inefficient. At a university, information systems can become even more complex. PaperVision® Enterprise and ImageSilo® allow you to efficiently manage electronic files, centralize disparate record systems, streamline information management and improve data accuracy and utility.
Make information accessible from anywhere, anytime to increase overall efficiency.
Use intelligent search capabilities to find student records in seconds.
Access any stored document without leaving Microsoft® Office or your other primary line-of-business application.
Gain Control of Security and Protect Privacy
The No Child Left Behind Act (NCLB), federal laws and state statutes all require schools to collect, report and maintain student data. Under these laws, schools must develop, employ and ensure control of student records. Paperless Solutions! simplifies information protection and records disclosure with multiple levels of security, system integrity and reliability.
Customize access on an individual basis and manage the ability for users to read, change or share documents.
Enable disclosure tracking to control who receives information, when and why.
Increase data accessibility and security using data encryption during transmission and while information is stored.
Save Money by Reducing Your Costs
Schools and universities that use paper systems are wasting valuable time and money. But with Paperless Solutions products like PaperVision Enterprise and ImageSilo you are able to simplify information management and records collection, enabling you to save money.
Automatically index and store computer-generated reports to reduce distribution costs.
Reduce overall money spent on IT services by allowing us to supply IT support.
Cut costs by avoiding capital investments in hardware and software.